Canada Heights 2022 - Revo ACU British Motocross Championship Fuelled by Gulf Race Fuels
Home
Why Attend?
Plan Your Day
Venue information
Timetable
Site Times
Online Programme
Welcome to the Canada Heights Round of the Revo ACU British Motocross Championship Fuelled by Gulf Race Fuels
The intertwined tracks of Canada Heights last saw the take on of the British Championship in 2021. The track allows the rider to show off their endurance skills throughout the long straights and sharp turns tend to take the riders out on a tricky slope. Leaving no end of space for riders to compete with each other it's hard to get a lead on this circuit as the track leaves no room for error.

The course at Swanley, Kent known as Canada Heights, acquired its name during the 1914-18 War when a large contingent of Canadian troops were camped there on the high ground. It has, however been in regular use for off-road motorcycle sports for many years, and by the Sidcup and District Motorcycle Club since 1952. Over the years, the circuit has hosted many events, from Club level to International status. It drew large crowds and national television coverage with the BBC "Grandstand Trophy" events during the 1960s. Despite its popularity and regular use by riders and spectators alike, it still remained just a rough piece of land for motorcycling until 1985, when the Sidcup Club bought it with the aid of a grant from the Sports Council and sponsorship from companies and individuals.
The Revo ACU British Motocross Championship Fuelled by Gulf Race Fuels is the perfect day out for anyone who is interested in motorsport but also those who are looking for a family day out. During your time at the event you will see riders battle it out to the chequered flag in each race as the Championship begins its 2022 season tour before the ACU British Motocross Champions are crowned at the final round on September 10th and 11th.
Want to find out more about the event, tickets, venue information and more? Why not check out the tabs further up this page or click on the relevant links below:
- Plan You Day

- Ticket Information
- Camping Information
- Venue Information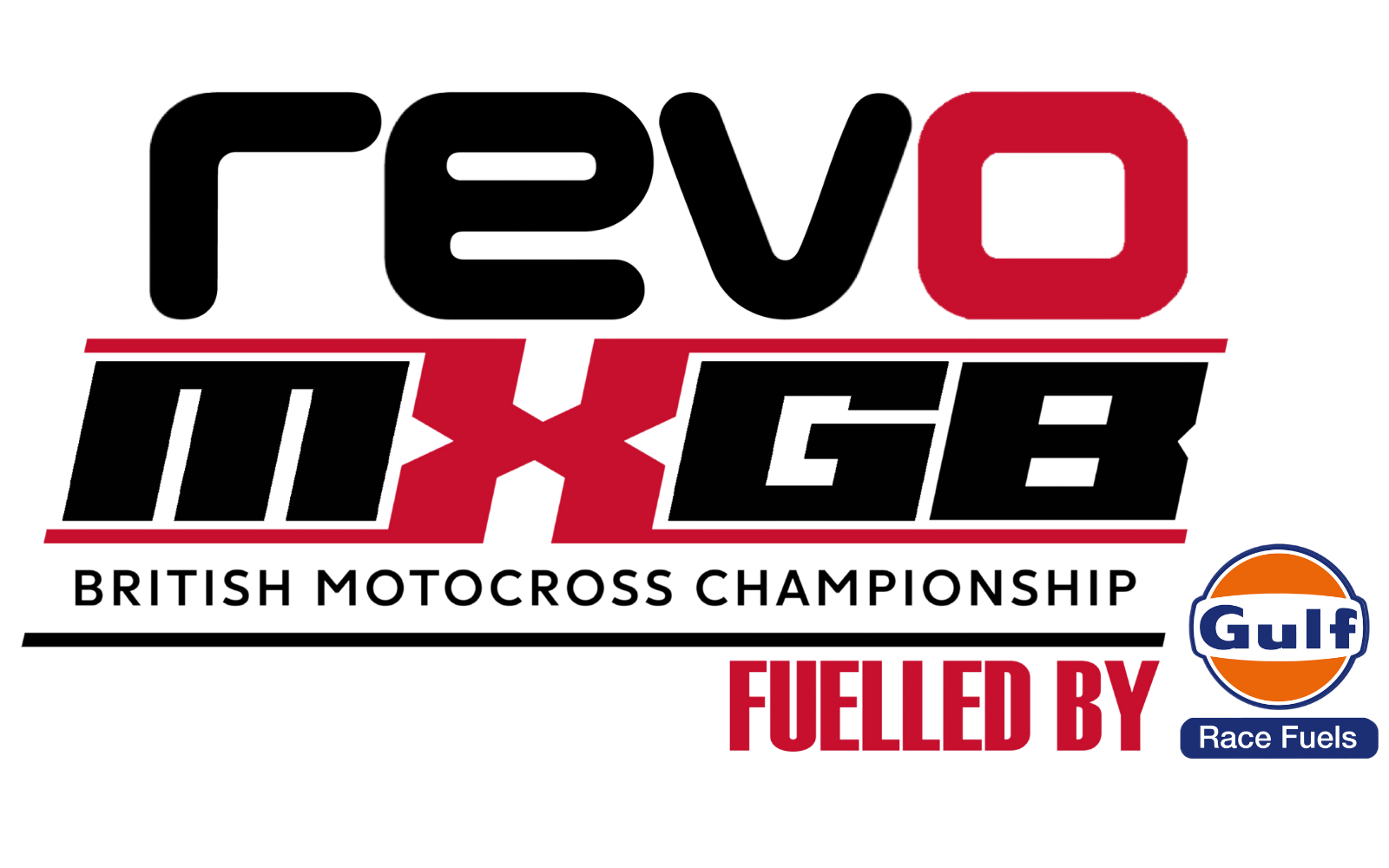 Why Attend?
Come and experience a day out or even the entire weekend at the Revo ACU British Motocross Championship Fuelled by Gulf Race Fuels.
During your visit you will see the UK's Best Youth and Adult Motocross riders and a number of European and GP riders do battle at the popular circuit of Cadders Hill, Lyng.
The Revo ACU British Motocross Championship Fuelled by Gulf Race Fuels is the Official British Motocross Championship sanctioned by the UK's only Governing body ACU (Auto Cycle Union) where competitors can battle across the designated number of rounds for the season to fight for the ultimate title of the ACU British Motocross Champion for their respective class.
Within the British Motocross Championship you will see riders from the age of 6 years old to riders over the age of 30 in their respective classes based on the bike they run which is also associated to age brackets.
There isn't just the racing to come and see but throughout the event you will get opportunities to see riders at their team set ups within the rider paddock and have the opportunity at a designated time to join in the teams rider signings. (Rider Signings Schedules are finalised and published the week of the event)
Watch a highlights video from our 2021 visit to Canada Heights where you will see the racing that will be on offer on Sunday 22nd May.
Plan Your Day
All you need to know when attending Canada Heights for the fourth stop of the 2022 Revo ACU British Motocross Championship Fuelled by Gulf Race Fuels.
RHL Activities and the Sidcup Motorcycle Club want your time at the Revo ACU British Motocross Championship Fuelled by Gulf Race Fuels to be an exciting day out for all. From this page you will be able to arrange your entire day at the popular motocross circuit.
You can also at the same time keep up to the latest news here where you can filter through the events RHL Activities run but also back over the years.
Travel & Parking
Looking to plan your travel and parking? Below we have outlined some key information to assist with your journey and arrival to the event. The Canada Heights circuit is situated just off the M25 Swanley. Postcode for Sat Navs: BR8 8DZ and keep going for a further half mile. You can also use What3Words for the event which are LOCAL.NOISES.ENGINE.
Camping
Camping Information will be released shortly.

Tickets
Ticket Information and how to purchase will be announced shortly.
Eating & Drinking
If you haven't pre brought and packed a lunch for your time at the event please be assured we have catering on site to keep you fuelled for your time with us. From burgers to sausage & chips and more the onsite catering have it covered.
Rider Signings
The British Motocross Championship teams do carry out opportunities at rounds for spectators to get a signature from the riders, pick up a poster or giveaways. These details will be announced closer to the event to which teams will be available at certain times throughout the event.
Venue information
DIRECTIONS
Canada Heights, Button Street, Swanley, Kent. Signposted from M20/M25 roundabout
ABOUT THE CIRCUIT
1.8 KMS approx of sandy hillside terrain with man made jumps. Start method is metal drop down start gate on mesh pads.
Local Press Officer John Powell email: sidcup@ntlworld.com
TEAR OFFS

No Tear Offs
VENUE CONTACT INFORMATION

Contact Name: Marge Clarke
Telephone: 01634 201268
Email: margeclarke45@gmail.com
VENUE SPECIFIC INFORMATION
Do You Allow Dogs? Yes but must be kept on a lead
Do You Have Water Facilities? Yes but must be boiled if using as drinking water
Do You have Wash Bays? No
Do You have Time Restraints? No
COMMERCIAL COMPRESSORS AND PRESSURE WASHERS
Commercial compressors and all commercial pressure washers must be available for inspection by HSE up to date documentation are pertaining to inspection cheques and maintenance work carried out on that equipment must also be available for inspection.
FIRE EXTINGUISHERS
All competitors must bring their fire extinguishers 2 technical control for inspection minimum requirement as per ACU Handbook 2K G dry powder
LOCAL HOSPITALS
Kings College Hospital SE5 9RS 02032 999000 - 16.2 miles – 49 mins
Princess Royal University Hospital BR6 8ND 01689 863000 – 10.3 miles – 19 mins
Darent Valley Hospital DA2 8DA 01322 428100 – 6.5 miles – 13 mins
LOCAL POLICE
Kent Police ME15 9BZ 01622 690690 planning@kent.police.uk
LOCAL FIRE STATION
Kent Fire & Rescue Service ME15 6XB
TAXI
Swantax 01322 662009
HOTEL
Brands Hatch Thistle (Fawkham) 01474 854900
Campanile Clipper (Dartford) 01322 278925
Forte Posthouse (Wrotham Heath) 01732 883311
The White House (South Darneth) 01322 862452
Formula 1 (Grays) 01708 891302
Holiday Inn Express (Dartford) 01322 290333
Hilltop Hotel (Stanstead, Nr Wrotham) 01732 822696
The Druids (West Kingsdown) 01474 854090
Princess Hotel (Dartford) 01322 220352
Nine Acres B&B (Ash) 01474 872253
The Rosary (Swanley) 01322 292617
The Castle Hotel (Eynesford) 01322 863162
Acacia (Swanley) 01322 554034
Five Bells Guest House (Eynesford) 01322 864878
Rashleigh Lodge (Horton Kirby) 01322 863154
Jessamine Guest House (Dartford) 01322 292617
TAKEAWAY
Whit Swan - Chinese 01689 822090
Oriental Express – Chinese 01322 222881
SHOPS
Asda Swanley Town centre BR8 7UN 01322 668526
W J King – Petrol & Shop A20 DA4 0DX 01322 862366
Timetable
SUNDAY – START 08.30AM (VENUE TIME RESTRICTIONS PERMITTING)
Times may vary depending on the venue, please check any Additional Information posted on the official Championship website.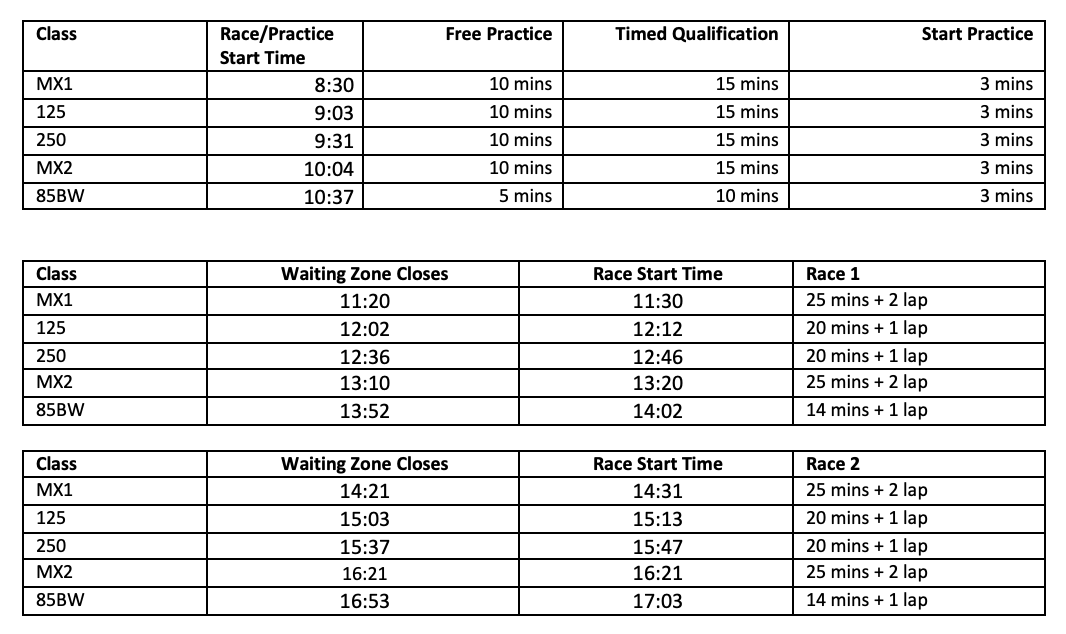 PODIUM
30 Minutes after finish of last race - pending appeal time – Projected Finish Time 17.00
CHANGE OF PROGRAMME OF RACES – WEATHER AND TRACK CONDITIONS
The race timetable is conditional on ideal weather and track conditions. The Clerk of the Course in conjunction with the Race Direction team may make any change for each event, depending on weather and track conditions, they deem necessary.
Site Times
Please be aware of the below times for Canada Heights this weekend
SITE OPENING & CLOSING TIMES
Please be reminded of the below times.
Saturday - 09.00am to 20.30pm
Sunday - 07.00am


RIDER REGISTRATION
Saturday - 09.00am to 20.30pm
Sunday - 07.00am to 08.00am

For security reasons the site is locked down at 21.00pm on the Saturday. There will be no vechiles in or out after this time.

TECHNICAL CONTROL & SOUND CONTROL
Technical control on Saturday will be 3.00pm to 7.00pm. Sound Control will take place during these times with a discretionary additional allowance of 1.0db. If you aren't selected and want to go through, please see the Sound Control team. For those riders arriving on Sunday morning there will be technical and sound control from 7.00am to 8.00am only. Please ensure you bring your bike, body armour and the correct Championship number board is displayed on the bike otherwise you will be turned away.