Championship Number Board
The Championship Number Board MUST adhere to the ACU Motocross Standing Regulations and it must have the compulsory logos on it as per the below image.
All bikes used for practice and racing, MUST display the Championship Number Board and go through Technical Control.
RHL Activities have secured a deal with Danger UK where you can purchase the Championship Number for just £6.00 + VAT or all three number board panels for £18.00 + VAT. To purchase with Danger UK please email dangeruk22@outlook.com or call 01263 731885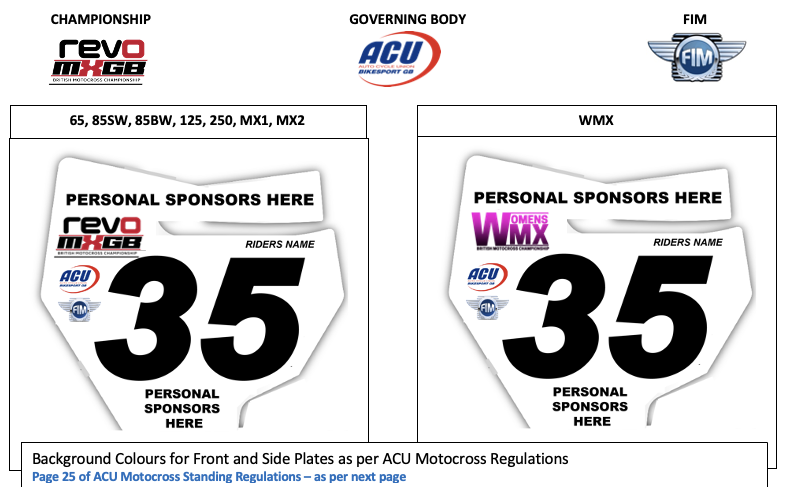 All logos can be downloaded from here

The numbers must be clearly legible for the spectators and officials. Reflecting numbers are forbidden. The following minimum dimensions must be respected on the front number plate:
Height of the number Minimum – 80mm – Maximum 120mm
Width of the Stroke 25mm
Space between two numbers 15mm
Championship Logo 78mm x 32mm – This must be in the position indicated
ACU & FIM Logo Can be placed anywhere on the front number board as long as they are displayed

*Wildcards are exempt from compulsory Championship design and logo's
Any Registered Rider who does not have the front number board affixed and compliant to the above, will have 5 points from overall Championship points taken away for each round.