British Championship Takes to FatCat After Simpsons Success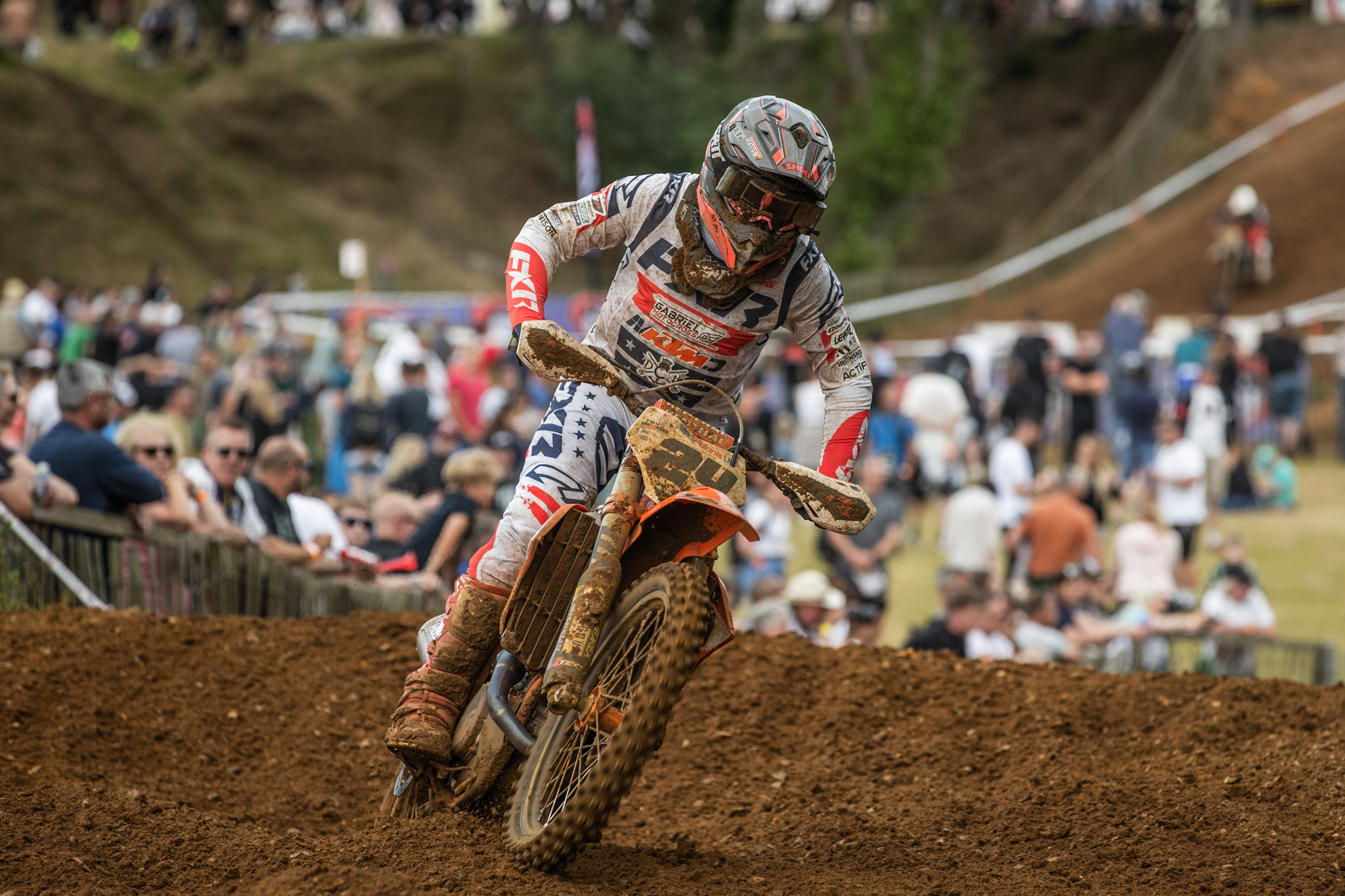 Round 6 of the Revo Acu British Motocross Championship Fuelled by Gulf Race Fuels sees us head to FatCat Moto Parc in Doncaster organised by 90 Racing. FatCat is a sand-based circuit and its technical layout and sandy terrain usually create plenty of lines for great racing. The track historically gets very rough as most sand tracks do and this will ensure the competitor's skills and fitness are tested throughout the entire lap. The track is complemented with good viewing areas for spectators. It's sure to be a round you don't want to miss out on.
FatCat sees the return of the 65cc class. We haven't seen the 65s since RD1 at Culham so they will be eager to get back to British Championship racing. Marty Spires leads the Championship on 129 points after taking the overall at the opening round, he will be looking for a repeat of that performance this time out. Casey Lister is second in the Championship on 120 points, 9 back from Spires, and will be looking to reduce the deficit. Leo Wilson is the rider who sits 3rd in the series on 116 points just 2 ahead of Harley Marczak who sits 4th.
The 85cc small wheel class will also return to action at round 6 and they will be raring to go as they have not been with us since RD2 at Foxhill. The rocket Robbie Daly has been very dominant in the opening rounds and through this, leads the Championship on 215 points. Hayden Statt is second in the series on 192 points just 2 in front of Alfie Geddes Green who sits 3rd. Green is only 1 point clear of Blake Ward Clarke in 4th on 189 points. As you can see, only 3 points covers 2nd to 4th in this highly competitive class and this should make for some exciting racing at FatCat.
The 85cc big wheel class will return to this round after a round off and so far, this class has been under the control of GRT Impact KTM rider Billy Askew. Askew leads the Championship on 402 points. Jake Walker is 2nd in the series, 25 points behind Askew and will be looking to reduce the deficit at FatCat. Josh Vail is the man that sits 3rd in the series on 362 points, just 15 back from Walker, and has been showing a lot of speed in recent rounds, he will be one to watch as he tries to close the gap in the Championship. Charlie Richmond sits 4th in the series on 333 points.
Once again, the 125cc class will be in attendance at FatCat to entertain us like they have done all season. Charlie Heyman currently leads the series on 223 points, he has been the man to beat so far this season. Ollie Colmer is currently 2nd in the Championship on 191 points, 32 back from Heyman. Colmer has had problems in the last two rounds which has let Heyman extend his points lead so Ollie will be looking to get his title chase back on track at FatCat. Joe Brooks has been the man on form in recent weeks and has won the last two overalls and therefore is coming into this round hot. He currently sits 3rd in the series on 178 points, only 13 back from Colmer. Cole Mccullough is having a brilliant year in his debut 125cc season and is 4th in the Championship on 162 points, Cole showed his speed in the sand at Lyng and will be one to watch at FatCat.
Tyler Westcott has been dominant in the first half of the season and leads the 250cc youth Championship on 232 points. Jak Taylor is second in the series, 33 points back from Westcott and has been getting better and better at each round. He will be one to watch as we head to Fatcat. Jak's Team Green Kawasaki teammate, Hudson Roper sits 3rd in the series just 10 points ahead of Dominic Newbury.
The MX2 class has been exciting to watch at every round this year and has had many twists and turns in the storyline thus far. Isak Gifting leads the series on 186 points after going 1-1 at Blaxhall, however rumours of a suspected knee injury may side-line him for Fatcat. Conrad Mewse lost the Championship lead after an early exit from Canada heights with a broken collarbone. Mewse, not one to give up on the title fight made his return at Blaxhall and rode to an impressive 2nd overall even with bike issues in both races. Conrad is 7 points behind in the series and will be looking to grab the red plate back at Fatcat. GRT Impact KTM rider James Carpenter has had an impressive season so far and is 3rd in the Championship with 153 points to his name. Tom Grimshaw has been fast and consistent this year and sits 4th in the series standings just 5 points back from Carpenter.
In the MX1 category, its Tommy Searle who sits at the top of the standings on 230 points after a great first half of the season. Tommy has been enjoying his racing and has been relishing the fight at the British, week in week out. Harri Kullas is second in the series, 13 points back from Searle and will be looking to put his sand talents to good use at FatCat to close the gap in the Championship. Shaun Simpson is now 3rd in the series after winning his first British Championship round since 2019 at Blaxhall. Simpson delivered on the speed he has shown all season long and this could be the confidence boost he needs to perform like we know he can in this latter part of the season. Sc Sporthomes Husqvarna rider Josh Gilbert now drops to 4th in the series after Blaxhall and is 7 points behind Simpson. This MX1 Championship is heating up and everything is on the line as they go into their final 3 rounds.
Words by Rhys Roberts