Millward on Revo ACU British Championship at Lyng
The third round of the Revo British Motocross Championships took the team to Lyng, Norfolk. We only had Jake under the awning this weekend after Bailey sustained an injury last week at Landrake that unfortunately meant he wasn't able to compete, but it shouldn't be too long before we see him back behind the gate.
The sun shone all weekend on the famous Cadders Hill circuit, and we were set for a great day of racing.
JAKE MILLWARD:
QUALIFICATION:
Jake took his time finding the right moment to go for his first quick lap, picking out the fast lines and timing his run to perfection, which put him straight to the top of the timing sheet. As the clock was ticking down, he went again to extend the gap to second place. Late on in the session, Tommy Searle then put in a faster time to move Jake down to second place by just 0.188 seconds although it was still a fantastic start to the day.
PRO RACE 1:
Jake got an awesome jump out of the gate to sit in second place, chasing down Kullas for the lead. Followed closely by Searle and Simpson, Jake held his own and battling for the lead until two thirds of the way through the race when he started to suffer with severe arm pump and slipped back to sixth place, which is where he would finish.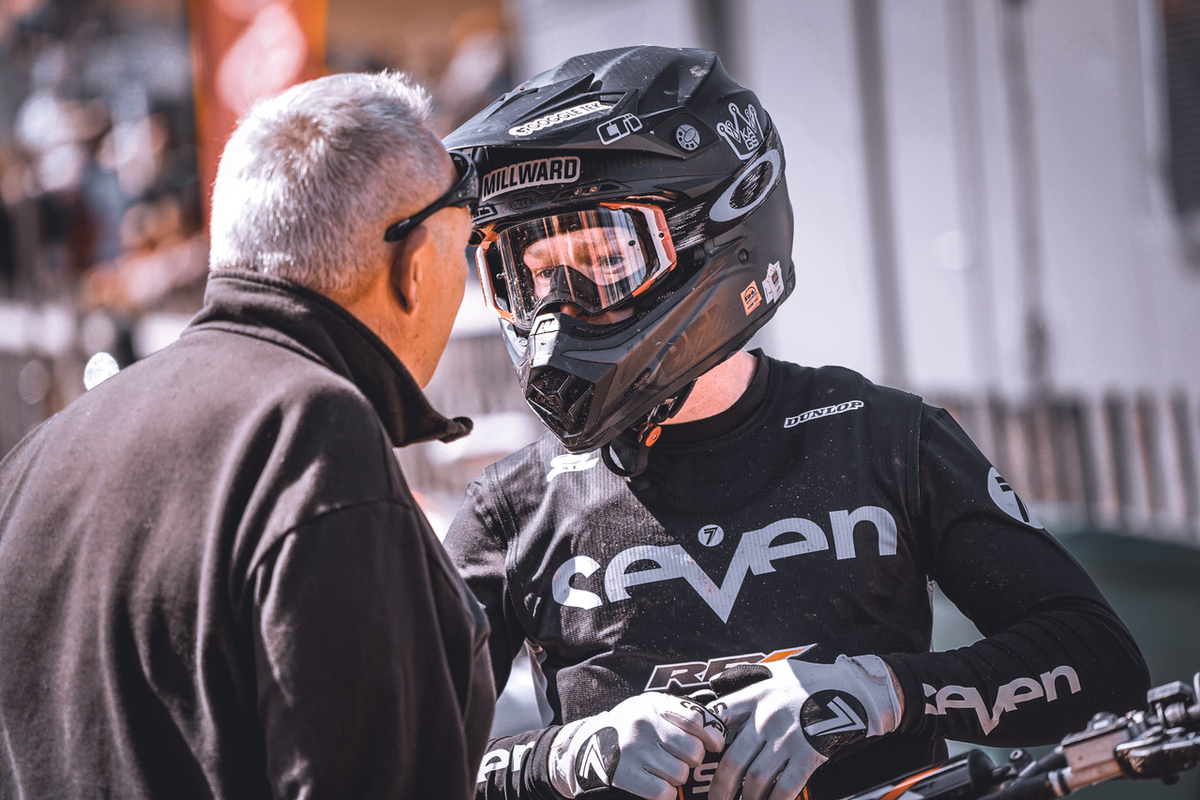 PRO RACE 2:
A tougher start to race two saw Jake caught behind a big pile up going through the first turn, leaving him towards the back of the pack. He soon got his head down and got down to business, showing great strength and determination as he picked his way through the field to seventh place at the finish.

OVERALL:
The results gave Jake Sixth overall at the end of the day, moving him from eleventh in the championship up to seventh. Great consistent speed was a feature throughout and it was good to Jake running back up towards the front, where we know he belongs. Onwards and upwards to round four in a couple of weeks time at Canada Heights.
"The day started well and qualifying in second place was a big positive; I felt good on the bike and found a flow quite quickly. In race one, I got a great start and sat second behind Kullas for the first half of the race but I had Tommy pressuring me behind, making me ride a bit tense and causing me to get really bad arm pump. Struggling to hold on, I dropped a few seconds a lap and got caught by a few riders. Race two I got caught in the first turn pile up meaning I started the race at the back of the pack. I got my head down, made some good passes and ended the race in seventh. The track was tough and had dried out a lot compared to race one, but the changes I made to the suspension in between races paid off as the bike handled a lot better than race one.
Although it's not the weekend I wanted in terms of the end results, it's an improvement on my last few race weekends. Finishing both races was a plus and a massive step in the right direction, and I'm looking forward to Canada Heights in a couple of weekends time." - Jake Millward

"Positive day, not quite the results we wanted but came away safe. As always #303 gave it 100%. Roll on Canada Heights." - Adrian Kirk