Weston Beach Race 2023
22nd - 24th
September, 2023
Home
Highlights
Traders
Timetable
WELCOME TO THE 40TH ANNIVERSARY WESTON BEACH RACE!
Date: 22nd - 24th September

Location: Weston-super-Mare Seafront

Prepare for an adrenaline-fueled extravaganza unlike any other as Weston-super-Mare's spectacular seafront morphs into the ultimate playground for offroad motorsport enthusiasts! Mark your calendars for September 22nd to 24th, as the UK's biggest Offroad Motorsport event descends upon this picturesque coastal town, bringing with it a surge of exhilaration and unbridled excitement.


What is the Weston Beach Race?

Picture yourself standing on the edge of a breathtaking 6-mile-long circuit, heart pounding with anticipation. As the sun casts its golden glow upon the coastline, an electrifying atmosphere fills the air. Suddenly, the silence is shattered by the thunderous roar of 1000 engines revving, sending vibrations of anticipation through your entire being. This is it—the moment when the 2km start straight becomes a symphony of power, speed, and raw skill. Riders from ages 7 to 70 all race this course, in their respective classes.
But hold on tight, for there's more! In 2023, this extraordinary event celebrates a remarkable milestone—the grand 40th anniversary! As you immerse yourself in the festivities, you become part of a rich legacy that spans four incredible decades. Reflect on the triumphs, the awe-inspiring performances, and the unforgettable memories etched into the history of this legendary event. Celebrate the dedication and passion that has made it an enduring symbol of motorsport excellence.
What are the classes that race in the Weston Beach Race?
Prepare for a captivating spectacle at the Beach Race, where a wide range of vehicles will brave the sandy shores. Witness the fearless 65cc riders, as young as 7 years old, take on the challenge. From 85cc, 125cc, and 250cc bikes to the thrilling Adult Solo race, featuring Ladies, Over 40s, and Under 40s categories, and the Quad Race, including Solo Quads, Two-Man Quads, 4x4 Quads, and Sidecars. It's an exhilarating showcase of diverse racing talent and extraordinary machines. Join us for a thrilling experience like no other! With a total of four races over the weekend, you will never be bored!

If you are a rider looking for information about the event, how to enter and more please visit the new Rider Hub by clicking here
What else is there to do?

As you witness the heart-pounding races, don't forget to explore our incredible promotion and exhibition stands, nestled at the very heart of the event. Stroll along the promenade and discover a treasure trove of delights, from clothing and merchandise to toys and beyond.
But wait, there's more excitement to be had! Venture into the trade area, nestled on the lush lawns just off the promenade. Here, a world of wonders awaits, offering a vast array of thrilling goodies for you to explore and purchase.
And that's not all! Throughout the weekend, prepare to be amazed by thrilling trials demos that will leave you in awe. Keep a close eye on the timetable to ensure you don't miss a single second of these jaw-dropping displays. But that's not all—we haven't forgotten about the younger ones. Inside the Trade area, a captivating kids' zone awaits, promising endless fun and excitement for the little ones.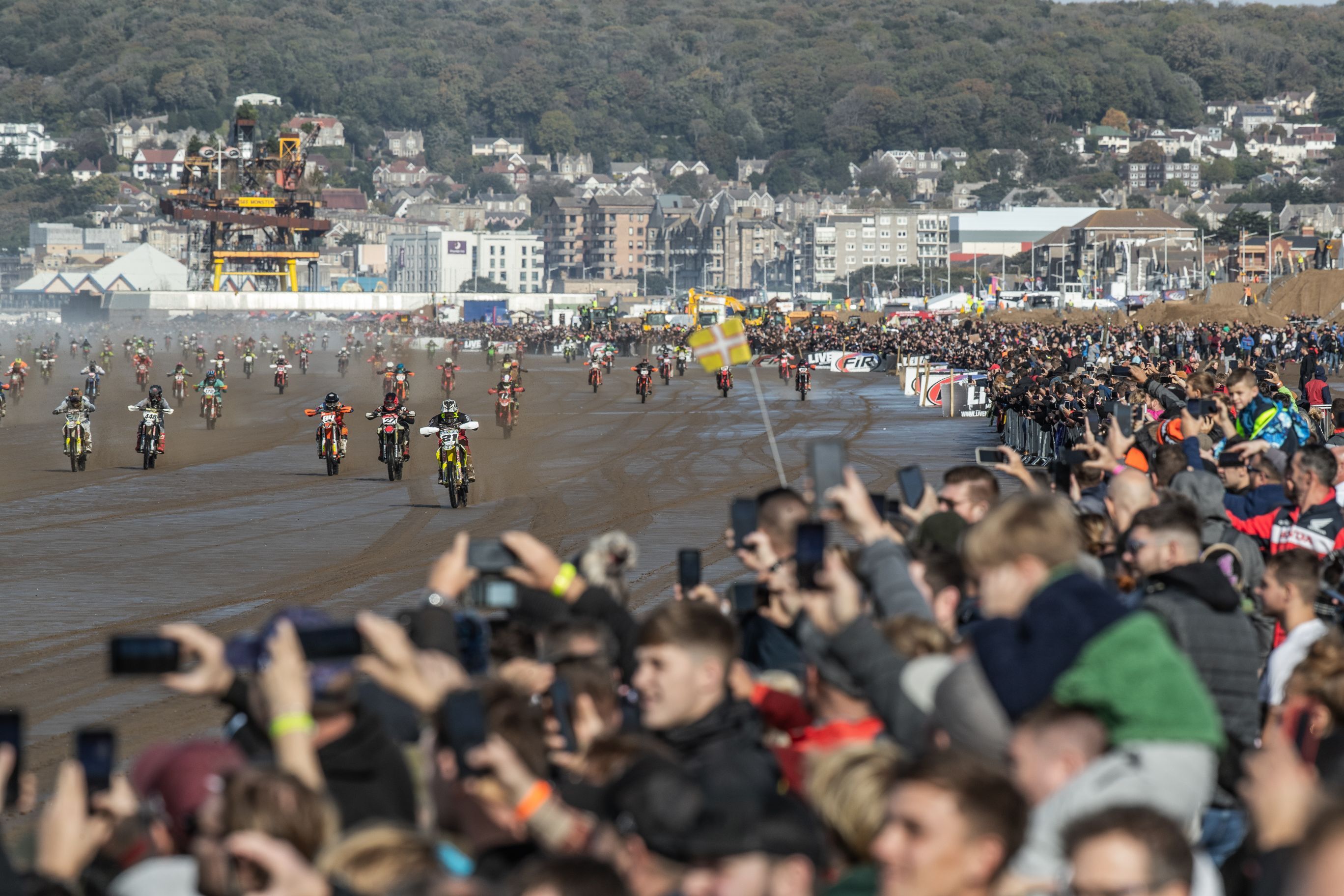 The Weston Beach Race is truly a weekend away for all the family so make sure you get your tickets purchased early online via our store. Spectator Tickets and Camping will go live very soon, so make sure you keep checking back for updates or alternatively sign up to receive the news first with the newsletter sign on the website homepage.

Highlights
Check out the videos created throughout the event weekend below for the 40th Anniversary
Traders
This years beach race is already filling up with the best of the best caters and traders from in and out of the industry. Stay tuned to this page as we unveil the impressive lineup of vendors and traders that will be joining us at the event. You won't want to miss out on the fabulous deals and one-of-a-kind finds!
Traders
Bikerswear B'ham - https://bikerswear.co.uk/
Stormer - https://www.instagram.com/stor...
If you are looking to have a trade stand at this years event which takes place on September 22nd to 24th and want to put your brand and products in front of tens of thousands of spectators please get in touch with the RHL team today by emailing events@rhlactivities.com or if you are looking to become a partner of the event please email partnership@rhlactivities.com
Timetable
Check out the timetable for the 40th Anniversary of the Weston Beach Race.

Friday
Dave Thorpe Training Day - 10.00am - 13.00pm

Saturday
Youth 125 / 250 - 09.00am - 10.30am
1 hour 30 minutes

Youth 65cc - 11.00am - 12.15pm
1 hour 15 minutes

Adult Quad & Sidecar - 13.00pm - 16.00pm
3 hours

Awards Presentation - 17.00pm - 17.30pm
30 minutes

Sunday
Youth 85SW/85BW - 10.00am - 11.30pm
1 hour 30 minutes

Adult Solo - 13.00pm - 16.00pm
3 hours

Awards Presentation - 17.00pm - 17.30pm
30 minutes

The current programme of events is subject to change as an indication only of schedules. Race Duration will not change. The most up to date timetable/schedule of events will be listed above.